Mobile Car Key
Programming

Service

Car key programming is an essential when it comes to getting vehicle keys and remotes replaced and/or duplicated.
Convenient,
Mobile

Car Key Programming

Does your car key turn the ignition but doesn't start the car? It's most likely that your transponder key chip and your car's computer have lost sync.
This normally occurs due to a faulty key, a glitch in the system, or memory loss after the car battery dies.
Whether your car key no longer works, or you've bought new car keys and need them programmed, our professional car key programming services will come in handy.

Car Key Solution is a locksmith company that offers local locksmith services to automotive, residential, and commercial clients across Montreal, QC.
We provide a variety of car key programming services, including:
Remote key programming

Smart key programming

Chip key programming

ECU programming

And remote key programming, among other services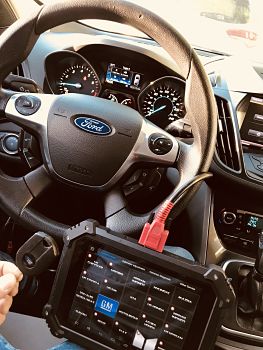 How Car Key Programming Works
After cutting a new car key that turns the ignition, the next step is to program the transponder chip to the immobilizer system.
This involves plugging in a special computer into the vehicle, which synchronizes the transponder chip that's integrated into the car key and the car's engine control unit (ECU).
There's another method of programming a car key, which is referred to as on-board programming.
This method involves conducting a sequence of turning the ignition switch on and off, which triggers the car's ECU to recognize and register a new transponder car key.
Contact Us for Convenient and Efficient Car Programming Service
When you're having car key programming issues, you need a locksmith company that's not only capable of responding quickly but also well-equipped to provide the service conveniently and efficiently.
At Car Key Solution Montreal, we have an extremely flexible schedule that allows our clients to either drop by at our shop anytime or request our technicians to go to them at no extra charge.
Our technicians are conversant with a multitude of programming services, thus can help with any problem you may be having.
Contact us today at (514) 548-3335 and learn more about our car key programming service.